Prague, an international Masonic city?
It is perhaps an unusual question, but one has to realize, that Prague has always been, for over a millennium, and will continue to be, an international place.
In addition, as Masonry is of English origins, there is an interesting Anglo-Czech Masonic relationship of which are many unaware.
How international is Prague?
We have to go back to the Celtic times (400 BC-1CT AD). The Celtic tribes left an important cultural heritage. For example, they gave this country the name Bohemia, and many river names are of Celtic origin. In addition, legends and the art of story telling come also from them. So there are traces of Celtic blood in the veins of today Praguers. And thus the Bohemians have common Celtic roots with the Scots, Irishmen, Welshmen and Cornishmen.
Slavonic tribes came to Bohemia in the 6th century and formed ever since the mainstream inhabitants of this country. But Prague, the capital of the kingdom and a cross-road of trade routes, attracted always foreign communities, which became an established part of the town. In the early days there were Arab and Jewish traders living in Prague. The Jewish community became an important and famous part of it. So did the German settlers. One could say that it is this peaceful competition of Czechs, Germans and Jews that created the uniqueness of Prague. But one must also mention the Italian community giving Prague its baroque face. And than there were French, Irish, English, Scottish, Dutch, Flemish, Spanish, Scandinavian, Slovak, Polish, Hungarian, Serbian, Croatian, Slovene, Bulgarian, Romanian, Greek, Russian, Ukraine, Roma, Vietnamese and other nationalities, each contributing in their own way. And what to say about the Moravians? Same people claim, that they actually rule Prague.
The kings and rulers of this country came also from different places. There is the long dynastic line of Premyslid Dukes, including St Wenceslaus (ca 907-935), know to the English from a Christmas carol as Good King Wenceslas.
Two times was Prague capital of Europe, as it was the residence of the Emperor. First time it was under Charles the Fourth (1316-1378), still today seen as the greatest ruler the country ever had. He was a Luxemburger, educated in Paris. His daughter, Anne of Bohemia married Richard II and became Queen of England. And the second time it was during the reign of Rudolf the Second (1552-1612), who was a Habsburg, educated in Spain. He made Prague the world center for arts, sciences and secret teaching. English alchemist Edward Kelly and John Dee lived in Prague in that period.
In the early 17th century, the protestant Frederick V, Elector Palatine (1596-1632) was briefly on the Bohemian throne as Frederick, the Winter King. His wife Elisabeth Stuart was a daughter of King James I. She became Queen of Bohemia for one season, but she kept this title for the rest of her life. Her son Ruprecht was born in Prague in 1619 and he became later the 1st Duke of Cumberland, Commander of the English Fleet, Governor of the Hudson Bay Company and member of the Royal Society. The Queen of Bohemia was also grandmother to King George the First.
The great, Czech speaking Moravian, John Amos Comenius (1592-1670), a protestant bishop, traveled all over Europe and talked to all rulers to promote peace in Europe and freedom for Bohemia, to end the Thirty years war. English parliament invited him to London. He wrote there in 1641 Via Lucis. His work became an important inspiration for Czech freemasons.
In the early 20th century, King Edward VII came frequently to Marienbad to take the waters and watch golf. He tried to talk Emperor Francis Joseph out of a bond with the German Emperor Wilhelm II, but to no avail, and so World War I unfortunately came.
But WW I created an opportunity for Prof. Thomas G. Masaryk (1850-1937), who had an American wife, to lead the country to independence in 1918 and to make Prague a capital of an independent country again.
The 1.5 million Czech Americans played an important role in this.
And in WW II, 10 000 Czechs and Jews fled to Britain and fought in the British forces, mainly RAF on the allied side.
And finally, what to think about the second part of the twentieth century? Internationalism and cosmopolitism was a crime under communism.
Freedom came after a long period of darkness. The iron curtain and the Berlin wall fell. Was it the dissidents? Ronald Regan? Gorbatschov? American rock and roll? British pop? Who knows?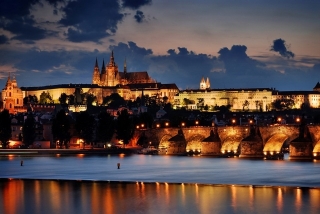 But Prague is an international place again.
As an old and vise man said: where the sweet river water flows into the salty sea, there is the best fish.
Anglo-Saxon-Bohemian Masonic relationship
Having reviewed Prague's international roots and relationships, let us turn now our attention to Freemasonry.
It is practically unknown, that the first freemason from Bohemia was Philip count Kinsky (1700-1749). He was a vastly rich, selfish and arrogant but very able nobleman. He stayed 12 years in London as imperial ambassador and upon his return became the highest chancellor of Bohemia in Prague.
During his stay in England, Philip count Kinsky was initiated by Lord Lovel as entered apprentice, together with Sir Robert Walpole, at Houghton Hall in Norfolk in November 1731. There are no reports of his Masonic activities thereafter.
In the golden years of Prague freemasons, in the years 1775-1793, we see many Irishman as lodge members. They were mostly military or medical officers.
As mentioned earlier, John Amos Comenius is an inspiration to Czech freemasons. He obviously could not be a freemason.
But one of his descendants, in the seventh generation after him, was George Viktor Figulus. Born in Prussia, he lived most of his live in South Africa, in Krugersdorp. He was there member of the Royal George Lodge 2643. In WW I he joined the British army and in 1921 he settled in Prague where he died six years later.
He visited very actively lodges Jan Amos Komenský, 28. ríjen, Hiram, Harmony and Adoniram.
When WW I was coming to the end, the new shape of Central Europe was only slowly emerging. Not everybody wanted to abolish the Kingdom of Bohemia. In certain circles of the Czech emigration the idea came forward, to offer the Bohemian crown to the Duke of Connaught, the younger brother of King Edward VII, and Grand Master of English freemasons. But in the end instead of a Masonic kingdom, Masaryk's republic was founded.
Freemasonry was prohibited in Prague in the period 1794-1918.
However, in Budapest and Bratislava (Pressburg, Poszony), the Hungarian part of the empire, masonry could develop freely after 1867. So Prague brethren, who became masons in Hungary or Germany or somewhere else, did establish Hiram Lodge in Bratislava in 1909.
The aim was to unite brethren from all nationalities and religion in one Prague Lodge. Czech, German and Jewish masons would jointly build Hiram. There were 42 founders, most of them initiated in Viennese lodges operating also in Bratislava. Others became masons in Saxony and Bavaria. There was also Bro Siegmund Bohm, who was member of Manchester Lodge No 179 in London and Bro Gustav Steiner, who was member of Divigo Lodge No 30 in New York.
WW I interrupted a natural development of Hiram and after the war the lodge split in a Czech one – Jan Amos Komensky and Hiram continued as a solely German speaking one. Both formed Grand Lodges. The United Grand Lodge of England was not too happy with two grand Lodges in one country, divided by a language. Recognition by England came in 1930, when both grand lodges started to move closer.
Bro Sedmik, private secretary of Foreign minister Bro Benes and the Grand Master Karel Weigner, were the forces to unite the systems of the Czech Grand Lodge and introduced a new ritual based on English Emulation.
When the Second WW came, all lodges had to close. More then 200 brethren went into exile to England and re-established the Czechoslovak Grand Lodge in London, with lodge Jan Amos Comenius in Exile as it's only operating private lodge. The support and friendship of English masons in the war years was a lasting inspiration for Czech brethren, returning home in 1945. The modernization they hoped for did unfortunately not occur, as the communist ministers were not in favor of freemasonry.
It is interesting to mention, that to help the war devastated Czechoslovakia in 1946, Masonic support came from the Grand Lodge of New York, GL of Louisiana and the US Masonic Service Association. They arranged for sending packages with food, clothing and money totaling 10 000 dollars.
One of the very active masons in post war Prague was Pavel Korbel, an uncle of Madeleine Albright, who became State Secretary under President Clinton.
After WWII, Freemasonry revived in 1947 but after the communist take- over in 1948 it was decided in 1951 to close voluntarily all activities. In 1990, after communism fell, the Grand Lodge of Czech Republic was re-awakened. Brethren from Austria, Finland, USA and other countries supported this Masonic revival. In the meantime, there are also French-, German- and Italian- speaking lodges in Prague. In 2004 the English speaking lodge Hiram was (re) established, working in Emulation.
Amongst many others, brethren from England, Scotland, Ireland, Australia and US were present at this occasion, reviving the Anglo-Bohemian Masonic relationship
Once again, Prague is an international Masonic city.
© Jacob Sadilek